Kitchen Ceiling Tiles
Edge Profile
Tiles with Square Lay-In are the easiest to install, but the visual effect of tegular, vector, or tongue & groove are interesting and appealing to many people.
The combination of grid size and edge profile will affect the visual appearance and ease of installation of your suspended ceiling.

Square Lay-in design hangs directly on the suspended ceiling grid.

Flush Tegular design hangs flush with the ceiling grid to create a smooth surface.
Square Tegular design hangs 1/4" below the grid, so the ceiling looks like a field of protruding squares.

Vector design creates a clean, grid-hiding visual effect.
Beveled Tegular design has rounded corners on the hanging tiles to create a softer look.

Tongue & Groove design provides a seamless, uninterrupted, grid-less look.

Angled Tegular design has angled corners on the hanging tiles to create a softer look.
Ceiling Grid
The Grid are the lines you can see between the ceiling tiles.
The standard width is 15/16" wide metal frame around each tile – about the same size as the diameter of a Quarter. A narrower version, 9/16", is also common.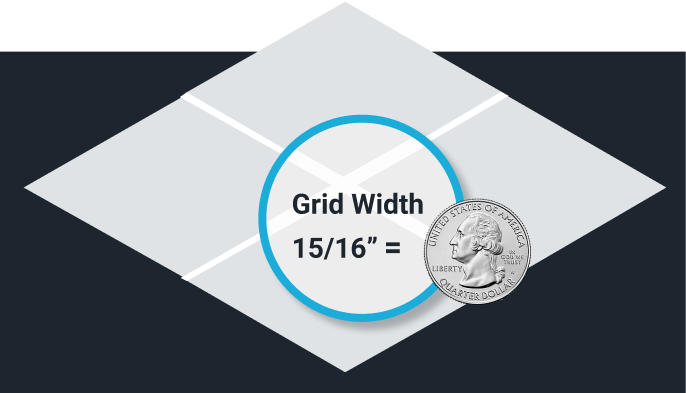 SORT & FILTER
FILTERS