Commercial Partition Walls & Room Dividers Considerations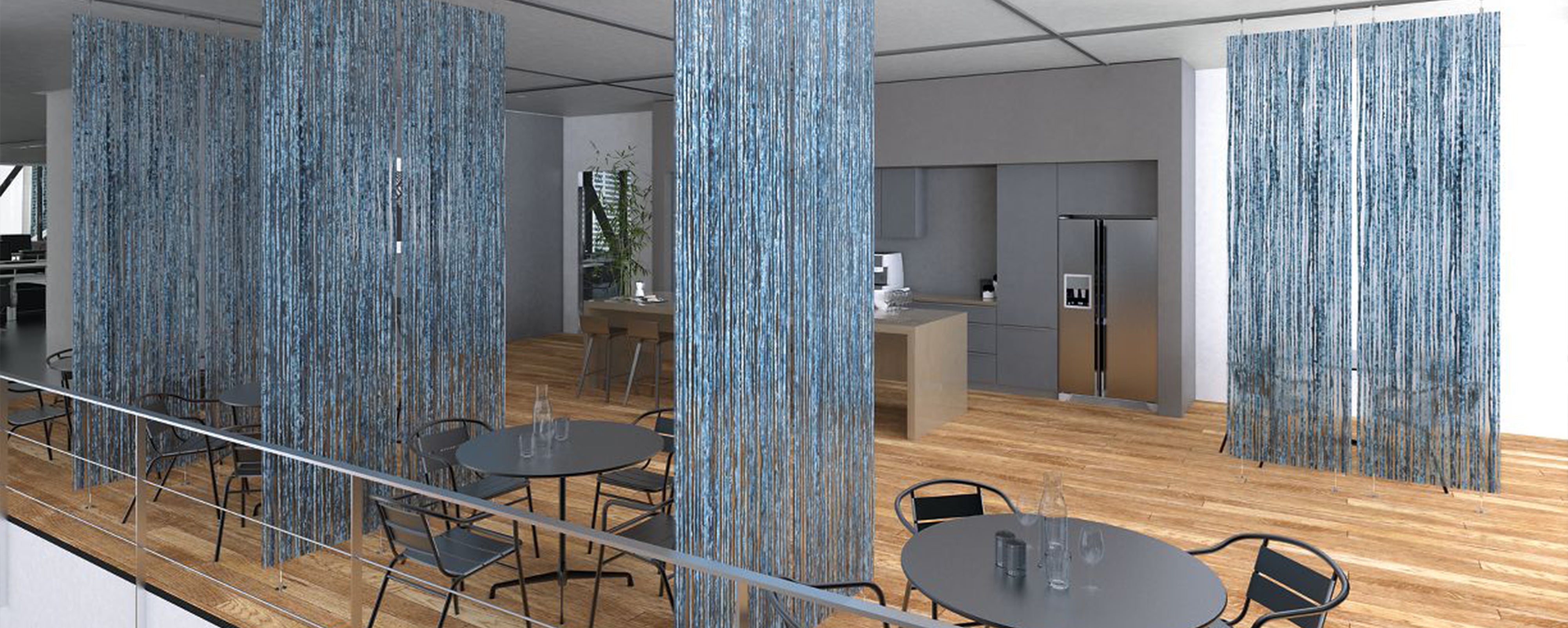 Designing a commercial space presents a unique set of challenges that aren't necessarily found in residential design. Commercial room partitions allow you to tailor the space to your specifications and come with a range of benefits.
Here are 4 critical considerations to take into account to ensure that you're getting the best partition for your needs.
1. Modular design
Commercial spaces must be able to handle a wide range of needs, and partition wall and room dividers with a modular design provide the flexibility you need. Whether you are using room divider panels in an office, dining area, healthcare facility or waiting room, a modular design allows you to use one or more partitions, placing them exactly where you need them.
2. Nonporous surface for thorough cleaning
A nonporous surface means that surface dirt and substances won't seep into the material leaving stains or germs. Porous surfaces will absorb liquids, including moisture in the air, but nonporous surfaces resist absorption, making them easier to clean.
Commercial partition walls can see a lot of use and must be cleaned frequently. Choosing partitions with a nonporous surface allows them to be cleaned quickly and thoroughly without fear of lingering stains, smells or germs.
3. Easy to install
The last thing that you need from your partition walls and room dividers is to hold up the construction process with a complicated installation process. Choosing products that are easy to install is a critical consideration when looking at materials.
Look for products that make installation easy; for instance, do they include all the installation components in the box, so you don't have to find the right connector for the right piece? An easy installation process is essential when you're looking for the best partition walls.
4. Sleek and stylish
In order to truly transform an existing shared space into a segmented area, wall partitions and room dividers should be sleek and stylish. Products that offer a variety of patterns and colors allow you to choose the perfect look for your space while creating functional and productive separations.
While qualities like an easy-to-clean surface and modular design are crucial, don't overlook the aesthetics when you're designing.
Wall partition inspiration from Kanopi
Translucent
For large open office spaces, you can use office partitions to create privacy with INFUSIONS Resilient Partitions. The modular design of these room dividers gives you the option to use them individually or group them to divide larger spaces, while their translucent design allows light to flow through them, so the space remains bright. They can be easily installed by attaching them to an existing drop ceiling grid, reducing installation time and effort.
Create dynamic designs
INFUSIONS Resilient Partitions allow you to play with color to create a dynamic design that carries throughout the space. Mixing patterned partitions with solid panels is a great way to include the design's color palette.
Unique and beautiful patterns like Twine Trails (pictured here), Ocean Strands, Chalk Kanji and Batik Forest (pictured below) provide plenty of options to mix and match with solid colors like Clay, Mountain Mist or Thundercloud.
The easy installation process and modular design allow you to get creative with the layout as well as the colors. Offsetting the hanging room dividers creates the illusion of movement and adds another layer of dimension to the room.
Maintain a sanitary space
Create a stylish separation between small tables while maintaining a sanitary environment. These nonporous room divider panels are easy to clean, so they'll look beautiful day in and day out.
Plus, due to their translucence, you can maintain a sense of privacy without creating complete isolation. This allows for intimate conversations to take place in a shared space without spreading germs far and wide — and without creating a feeling of confinement.
How to choose the best room partition for your space?
The best type of room partition will depend on your specific needs and preferences. Some factors to consider when choosing a partition for a room include:
Purpose: What do you want the partition to do? Do you want to create a temporary or permanent division in the room? Do you need to block noise or provide privacy?

Style: What is the overall design aesthetic of the room and how will the partition fit? Do you want the partition to be a focal point or blend in with the rest of the décor?

Material: What type of material do you want the partition to be made of? Some options include wood, metal, glass, or fabric. Each material has its own pros and cons, such as durability, maintenance, and cost.
Size: How large is the space you want to partition, and what size partition will be appropriate? Will the partition be floor-to-ceiling or only go part way up the wall?
Budget: How much money do you want to spend on the partition? Some options, such as a custom-built wall or a glass partition, may be more expensive than others, such as a freestanding room divider or a curtain.
Design the ideal space. Kanopi can help.
Partition walls for commercial applications will transform the space and allow you to tailor it to your specific needs. Whether you're separating tables to create intimate dining spaces, partitioning offices to mitigate the spread of germs or adding an interesting design element that also helps to control noise, Kanopi can help.
Contact the experts at Kanopi today to design a dynamic space to meet the needs of your commercial space.